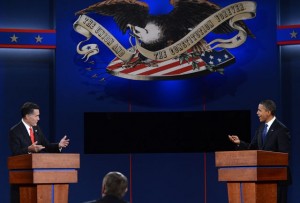 Just a couple of observations. (If) we are to believe the polls, Governor Romney did exactly what he needed to do and took the fight to the President. He was on message, articulate and described what is the most basic but important part of this election, "the vivid contrast" between two visions for America. And while the President did seem a bit disinterested and smug, that actually didn't surprise me one bit.
Now I won't get into why I feel the POTUS is not necessarily the "likable" guy many folks seem to think he is. I might just let the recently revealed tapes of a couple of very divisive speeches he made before he was elected speak for themselves on that matter. Consequently, I definitely got the feeling the Obama camp was trying mightily not to appear outside of that "likability" comfort zone. Let's face it, Romney pretty much showed that's really all they have. Arguably however, this is only the first debate. And judging from the "Shame Stream Media" response thus far, they will be out in full force today to spin this to the President's advantage as best they can.
The simple truth is that in November, "We the People" will in fact have to do exactly what Governor Romney said last night, and choose between two very different ideological directions for our country. One thing is for certain after watching last night's contest though, and that is neither of the candidates  attempted to hide theirs. Using only this as a benchmark, I score the night a tie.