Ok folks, let's be honest with ourselves. The Republicans didn't lose because they oppose abortion or gay marriage, or because some politician has a foot in mouth problem. And they didn't lose because they don't work with Democrats, or because Chris Matthews says they are racist. The Republicans lost because their message didn't include free stuff for those who don't deserve it.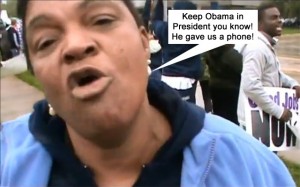 They lost because of the short-sightedness and selfishness of "Big Labor", and because folks didn't want to hear that the deterioration of the American family in our urban centers is the cancer eating away at our Republic. And also, they didn't want to hear that racism and bigotry are being kept alive only in the ideologies of those who seek excuses, and/or power over an uneducated demographic, which in turn brings them electoral gains. (See Obama Phone video)
No my fellow Americans, this is much more simple than the talking heads tucked away in some obscure wing of one of our "esteemed" halls of academia would have you believe. The simple truth of the matter is, "the free ride" now trumps "freedom". More Americans feel comfortable with the idea that government can and should provide for them. One need only look from county to county where the President did very well to see this unfolding before our eyes.
So my message to those of the Constitutional persuasion is straight forward today. Do not be tricked into thinking some mindless idiot who needs vindication at the local Starbucks is smarter than they really are. They are simply caught up in the social glamour of this President and wish to be seen with the "in crowd". These folks are the sheep who would have voted for Obama in spite of the glaring truth. And don't be fooled by those who would have you "mold" your belief system to accommodate that which you know in your heart to be wrong. And don't compromise your principles on the premise that somehow, we may be able to spend our way out of this fiscal calamity. It will not happen. Oh, and don't be tricked into thinking the revolting pictures you saw on the news of the "Occupy" crowd were somehow doctored by the "evil Tea-Party". No my friends, this is simple socio-economics 101, and the balance of electoral strength now favors the takers.
Now go and read your history books to see how this always turns out…