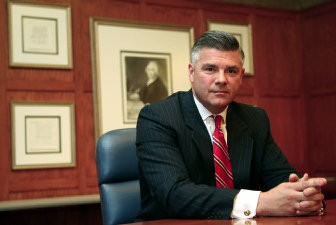 I recently had the opportunity to watch a video piece on my home state newspaper website (projo.com), the Providence Journal, spotlighting a gentleman I had the pleasure of working with some years back, and it inspired this post.
The video was a mere snapshot of a man who has dedicated his life to the pursuit of justice and the betterment of the community at large for his entire professional career as a Rhode Island State Trooper. But while we often focus on a police officer within the context of the uniform, it is easy to overlook that which makes the person.
Col. Brendan Doherty's is the quintessential American story of ambition, dedication and family. Guided by his Irish father's ethical compass, but raised to be mindful and respectful to the humanity of all, (even those he would someday pursue), Doherty set a standard many a Rhode Island law officer has sought to emulate over the years. His endeavor to pursue the good in the state he loves and calls home, a state that while picturesque is often plagued by scandal and political upheaval, is admirable to say the least, and has catapulted him to the top of his profession.
As a father trying to raise a young son in Rhode Island, moreover in the United States these days, I find it harder and harder to espouse a proper role model for my boy. For this reason, it is refreshing to hear young Zach beam with excitement like only a seven-year old can, "Hey Daddy, it's the Colonel's Guys" whenever we pass a RI State Police Cruiser. After shaking the Colonels hand at his swearing-in ceremony, he clearly ranks right up there with (go-kart racing and Tiny Mite football adventures) for Zach. Much to the chagrin of his Mother and I, the little guy never misses an opportunity to reminisce about that day with the Colonel, as well as the Honorable Don Carcieri, Governor of Rhode Island, at every single ceremony we attend.
I know you may wonder where this fits into the grand scheme of my little political project, and to that I would only say: As we move at light speed to close out the first decade of the 21st century, it will be as important as any effort we make to take stock of the positive as well as the negative when we look to our Public Servants. This is always a good way to promote the best possible examples and legacy to the next generation. In the humble opinion of this author, Colonel Brendan Doherty represents one of those examples.
NOTE: The Author worked for Mr. Doherty outside of his capacity as the Superintendent of the RI State Police and is not a State Police Officer. The views expressed on this site are those of the author and not necessarily those of the Colonel and/or his designates, The RI State Police or any other party/entity mentioned herein.