This is something I wrote for a local Christian newspaper, "The Good News Today". I have the link in the side bar. It's a great paper. Support them if you can.
In 1808 Thomas Jefferson spoke of the danger of affixing federal approval to a national day of prayer. But as I always say, you must put things in context and read a great deal more of Jefferson's writings to understand he feared only the federal government eventually dictating where, when and how we would pray. This was Jefferson's way with all things as they related to the federal government and the power granted it by the Constitution. President Lincoln sought divine guidance and healing in a time when we fought against ourselves in the bloodiest of all of our wars. He knew that in times of great peril we must look to a power greater than that of mortal man. President Roosevelt said on "D-Day", Almighty God: Our sons, pride of our nation, this day have set upon a mighty endeavor, a struggle to preserve our Republic, our religion, and our civilization, and to set free a suffering humanity. President Reagan I believe said it best though, "On our National Day of Prayer, we join together as people of many faiths to petition God to show us His mercy and His love, to heal our weariness and uphold our hope, that we might live ever mindful of His justice and thankful for His blessing."
Those were just a few thoughts as we contemplate the decision of U.S. District Judge Barbara Crabb declaring that a "National Day of Prayer" (NDP) is somehow unconstitutional. Now in my haste to blog about what I saw as just another attempt to rid our Country of its founding and guiding principles, admittedly, I seemed to have missed the boat as well. The idea of a NDP is far more involved than I had originally pondered. So let's go forward and learn something together, shall we?
As I've written of late, you do not have to be a Biblical Scholar or a Theologian to understand the religious frame of mind of our Founding Fathers. Now if you have not done your historical homework in this regard, then the rest of the article will only serve to agitate you. That said, the reading of the story of this Country is made even more inspiring when we witness the faith of so many of our leaders who have been tested at its helm. When we note Lincoln's trials and how he sought Gods divine intervention through personal and political turmoil, or how FDR moved to comfort the American people in time of great National sacrifice by praying with them by the fireside, or how the prayers of the American People sustained a grieving family and Nation when its leader was shot down in the streets of Dallas, our hearts are filled with a sense of closeness to our God, a closeness and security only attained through recognition of, and faith in His authority and mercy. So when we pick up the paper or turn on the television and witness the slow but steady dismantling of the foundational faith which has set us apart and supported us in times of tribulation, we are obviously angered and confused.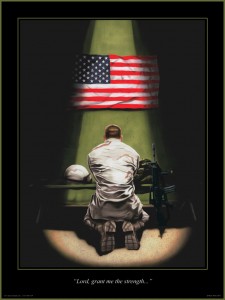 For me personally, being from Rhode Island and all, it is difficult to contain my frustration when I hear some local hypocrite or politician babbling about the "separation of church and state". I simply want to climb to the highest point I can find and scream, "The Constitution don't say that"!!! That frustration is made all the more difficult considering our well documented and historically religious background here in "The Ocean State". But while difficult, we must gather ourselves with the facts first, and proceed with patience.
The National Day of Prayer eventually came to be over a period of about 150 years. It began with President Lincoln as he recognized a Nation on the verge of tearing itself apart, and chose to lead with a belief in God that he wrote about often. In 1863, Lincoln signed a Congressional resolution calling for a day of fasting and prayer during the Civil War that we might pray for the fighting and the fallen, and that with the Lords blessing this great Republic would not perish from the earth.
In April of 1952, both Houses of Congress took it a step further and passed a bill proclaiming that the President should select a day each year as a NDP. President Truman signed that bill into law.
In 1972, a National Prayer Committee was formed, and in 1988 public law 100-307 was signed by President Reagan declaring the first Thursday in May of every year as The National Day of Prayer. Over that time the United States has faced challenges on many levels, but none so great as the one before us today.
Shall we throw away that which has arguably made us the greatest Nation ever to exist on earth? Do we turn our backs on the value of Devine Providence as it relates to all that we hold dear as citizens of this free Republic? Do we condemn our children to a Godless and secular life by virtue of our ignorance and vanity? You see, this is a question as much about who we are to become as who we are today. Every decision made by someone like Judge Crabb is another revisionist assault on our children's future. As we hear more and more from the likes of radical Christian hater Mikey Weinstein, a man truly devoid of any common decency (in this author's opinion anyway), do we sit idly by and let these nut jobs and revisionists change the Founder's intent with the brush of a pen or the key stroke of a laptop? Do we wake up one day in an atheist society with faith only in ourselves and the government? I submit to you that should that day ever come, you will hear the screams of regret reverberate from sea to shining sea, more than likely with crackpots like Weinstein's being the loudest.
Every day we hear of attacks on prayer, in our schools, our businesses and in our social gathering places, all under the guise of Constitutionality, when in fact the documents authors sought only to reinforce that religion was something to be cherished and not restricted, and that their new government would ensure all could pray as they wished. Nowhere in any writing of the day do we see the famed "separation of Church and state". This was the farthest thing from the Framers minds and they would have been disgusted at the notion. You would not know this from the writing of today however, as the secularist progressives seek to rid the world of God so they might advance the cause of a world beholden only to those things granted by mankind. I know this may sound a bit deep and prophetic for someone who lacks any formal Biblical insight, but it just seems so clear to me. The writing is on the wall if you choose to read it…
Children are allowed to wear t-shirts in our public schools depicting murderers like Che Guevara, yet they are ridiculed and forbidden to wear a t-shirt depicting a cross or the likeness of Christ. The double standard one would expect to be checked by the "establishment clause" is allowed so as not to offend the "non-Christians". I am very sure that was not the intent of the First Amendment or any of its components. Make no mistake, what are clearly under attack here though, are our Judeo/Christian beliefs and values.
They are increasingly portrayed as extreme and un-Constitutional. In a blow near and dear to my heart, the United States Army has now withdrawn its invitation to Franklin Graham to speak at the Pentagon on the NDP because of a remark he made about Islam being evil. Now I have always been cautious not to stereotype, but I have also seen the face of the enemy, and he is most certainly proclaiming the religion of Islam in his holy war with the "infidels", and though he may be the extremist of their faithful, I have still yet to see or hear the outrage from the Muslim Community one would expect when a human beings head is sawed off for the cameras. I do not wish to get side tracked here, so I will try and stay on message, though I feel passionately that this is all linked.
Anyway, the NDP is Thursday May 6th 2010, and thankfully, there is some good news on the subject to report as well. There are still some Politicians willing to step up and be counted among the faithful. 40 or so of them, led by Texas Republican Lamar Smith gathered on Capitol Hill in Washington today to voice their support for the NDP, God Bless em'. Also very notable was the support from the CWA (Concerned Women of America), a bipartisan group whose membership feels strongly about protecting the NDP. Vice President of external relations for Focus on the Family Tim Goeglein praised those defending the NDP today as well stating, "If there was ever a time that we needed a National Day of Prayer, it is certainly now."
With this in mind, we must turn out in the greatest numbers possible on May 6th. Using the "Tea-Party" model of action, I believe that if we are complacent and idle in the face of the "secular army", and simply discard our religious roots and their priceless worth to our very way of life for the sake of "political correctness", there simply won't be a Country left to fight for in the end. For as I've written, I believe God is watching and pondering what we do with this "best arrangement for mankind under Him" which He has blessed us with. So let's do our homework and head out to our local rallies and make this year a referendum on the Judge Crabbs of the Country. Let's send an unmistakable message that tells these elitists we know our history (religious and otherwise), and that we are proud of it and don't want it to be (revised).
Now that my head hurts and my fingers are warm, I think it's time for me to give you a little local flavor on this one as well, that you might be further inspired to action. "Prayer Rhode Island" is a local project established to encourage Rhode Islanders to keep their elected officials cognizant of the importance of prayer as a means to find the wisdom to lead. Now there's a thought… I think it's fair to say that we here in RI have a larger "per capita" corrupt politician to population statistic than most other states. In simple terms, our political leaders need all the help they can get. While the battles on (Smith Hill) rage over how to pay for the "sins" of the past 60 years in our state, it is easy to become cynical when we hear folks at both the State and Federal level telling us we need less of God in our lives. 1 Timothy 2:1,2 "I urge then, first of all, that requests, prayers, intercession and thanksgiving be made for everyone -for kings and all those in authority, that we may lead peaceful and quiet lives in godliness and holiness." NIV.
Hmmm…
I have spent a great deal of time on the Hill arguing about this and that, and I have witnessed firsthand the callous disregard many in that building exercise when plotting our collective futures. It makes total sense that Jesus apparently didn't make it through the security check on the way into the State House Rotunda. For if he had, many in that room would govern from a far different "platform". Thankfully, there are folks like Cheryl Russell who is in her 11th year with (Prayer RI), and who escorts the Lord into the halls and labyrinth that is the RI State House twice a month to pray for and with our elected officials. (When) they stop to speak with her, she encourages them to think in terms of a holy life first, and as a foundation for any "political" calculation they may be contemplating. Cheryl feels that many of our State Representatives fear any religious overtones in their decision making process as they do not wish to be a target of the ever vindictive and selective ACLU, a political reality for our elected leaders these days. This speaks to what I have been saying about how far we have come from a State that Cheryl points out, touts the Flag of Hope aside of the U.S. Flag, and was founded by a missionary, oh and not to mention that it was the focal flash point of a cast away European culture seeking freedom from "religious" persecution.
Cheryl went on to tell me of her calling to change the hearts and minds of not only politicians, but of all people, from newlyweds to whole families. She spoke of the need for Christians and Non-Christians alike to come out of their "Prayer Closets" and reinforce the message that without God, we are simply out of the light, politically and otherwise. We talked at length about things like the Jericho Walk a couple of years back where some 200 young people walked around the State House professing their faith to all who would listen, as well as what she sees as the need for more to be personally involved in this fight.
Cheryl Russell was at a Woman's Conference when we spoke by phone, I'm sure doing what she does best, ministering to those in need of spiritual guidance. But she concluded by telling me that the National Day of Prayer, whether it be in Washington or at the State House, is not so much a day as it is a discipline, that should be with us the year round. She feels strongly that the message of that day should be with us always, not just in our local churches, but in our homes, places of business, sporting events, schools and political gatherings. She is an amazing person and resource and I encourage you to read more about her and about upcoming (Pray Rhode Island) events planned for May 6th at http://members.cox.net/riprayer/.
I know this has been a bit long winded and my Editor will be working overtime to try and make it all fit, but there is just so much to say on this topic. I think I can sum up though with a simple thought line. On some level most of us acknowledge God, some more than others, and I'm sure some still with a greater degree of faith. Moreover, most also acknowledge the exceptionalism and worth of this great Republic Divine Providence has given us, whether we discuss it openly or not. So in the humble opinion of this author, it only makes sense that if we wish to leave our legacy, the "hope" and dreams of our faithful forbearers, then our collective message should be loud and clear, hands off "Our National Day of Prayer".
Fred Comella