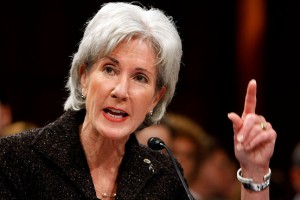 It should come as no surprise that funding for the "Affordable" Care Act simply doesn't exist in real money. So notwithstanding what we know to be the Administrations true desire for a "single payer" system of healthcare, it now appears HHS Secretary Kathleen Sebelius is strong-arming health care execs for cash ahead of the official 2014 roll-out of all the budget busting parts of "Obamacare".
As we watch the IRS scandal unfold before our eyes, and we hear the likes of Eric Holder attempt to explain away lying to Congress and breaking the laws he's supposed to enforce, and as the truth of Benghazi ebbs and flows like blood through the cracks of an al-Qaeda prison cell floor, this latest departure from ethical government leaves me to contemplate the words of our President back in 2009. "I will also hold myself as president to a new standard of openness …. Let me say it as simply as I can: Transparency and the rule of law will be the touchstones of this presidency." – President Barack Obama 
What a complete and total crock!
I ask the Left, as well as the media sycophants who unbelievably continue to turn a blind eye to the obvious, are you comfortable with this? Is this your idea of our children's America? Is this your answer to the dreaded George Bush? Shame on you, all of you…