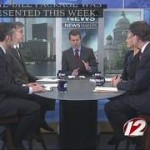 For good or bad, gun-control is now front and center, largely as a result of the Sandy Hook tragedy. I have fought the Second Amendment battle on a number of fronts over the years and I keep coming away with a very disturbing observation. Ironically, it's not exclusive to the argument over guns, but I continue to be floored by how little politicians know about many of the important issues of our time.
As an example, I was watching WPRI's Newsmakers recently with Guests, Rhode Island  Rep's Finn and Chippendale, discussing proposed gun-control legislation coming out of Smith Hill. Firstly, Miss Finn's "observations" on the availability of data concerning firearms incidents nationwide were almost comical. She was apparently attempting to cite CDC stats, or some lack thereof, and simply flubbed it badly. Her assertions were completely inaccurate and she seemed wholly ill-equipped to make her case. Not to be outdone, Chippendale shanked one of the simplest questions out there, and a favorite of the Liberal television media, concerning "the line" between what Americans can and should be allowed to own. Tim White cleverly threw out the poll-tested "What about bazooka's?", to which Rep. Chippendale simply had no discernible retort. The factual and necessary answer would have been that the "National Firearms act of 1934" and subsequent "Gun control Act of 1968" addressed those issues, banning and/or regulating ownership, use, and importation of such/certain weapons. One would think these are questions our elected representatives should be able to answer with ease, thus allowing a more robust debate for "We the People" to consider.
Nevertheless, our freedoms seem precariously balanced in the hands of those who let their emotions and/or political ambitions trump fact and reason. Dangerous ground I would say, as there are another nine Amendments in the BOR. I'm starting to think there should be some sort of test for those who wish to speak for us.