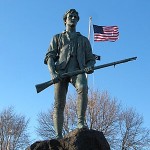 The fight for Second Amendment rights in Rhode Island is always interesting. The Ocean State's unique political landscape lends itself to all kinds of curious interpretations. As a general rule, Rhode Islanders tend to be the quintessential procrastinators, prone to reactionary politics. That said, firearms owners in the state are a passionate bunch when roused. Appropriately and for the purposes of this writing, I think it's important to identify the two opposing groups on the matter of gun control here in Rhode Island.
Firstly, the states entrenched Leftist politicians oppose the right to "keep and bear arms" as outlined in the federal Constitution and reinforced by an even less debatable state application. Their foremost agenda is "registration" as a means to eventual confiscation. Truth be told, if you hang around in political circles long enough, you'll hear them say that very thing. Regrettably, their media sanitized efforts are often disguised by a blatant mischaracterization of the Amendment itself, as well as the exploitation of murdered innocents as an acceptable means to the aforementioned end. This is the most despicable kind of political gamesmanship, made even more indefensible by a deliberate end run around the Constitution(s) these elected officials swore an oath to defend.
On the other side there are the ardent few defenders on Smith (Capitol) Hill. Emboldened by a rising tide of awakening gun owners, folks like Representative Chippendale (R) 40 and Costa (R) 31 are often hampered by boatloads of media misinformation, political pandering and a lack of understanding on the part of the general public when considering the true intent of the Second Amendment. It's always troubling when some in this camp go on about hunting and sport shooting, neither of which have anything to do with the Amendment. This ignorance, willful or otherwise, only makes the task of countering a well-organized and focused opposition more difficult. Ultimately, factual unity around the Second Amendment's true origin and meaning provides the clarity necessary to understanding how "the right" facilitates/protects additional benefits like hunting and other sporting uses of firearms. Moreover, every gun-owner who values his or her time at the range or in the woods should understand that while the Second Amendment was not drafted for "recreational" purposes and/or reasoning, many of these cultural traditions as well as the God-given right of self-defense, are also protected by way of our founders wisdom, experience and the subsequent Constitutional right to "keep and bear arms".
Please take some time to read "your" founding documents, as well as the letters and papers of those who wrote them. You will discover they are anything but outdated. In fact, the content could not be more necessary and applicable to our current national posture.