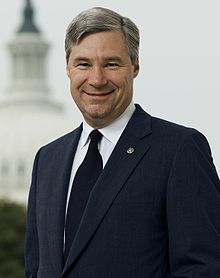 My opinions on Sheldon "Silver Spoon" Whitehouse are no secret, nor is my assertion he is unfit to hold any public office. With that said today, I remain confused at how and why this clearly pro-abortion politician winds up giving a major policy speech at an esteemed Catholic Institution of higher learning. The sort of strange and quasi-historical  "double standard" applied by folks like Rev. Brian Shanley in his press release on the matter, is nothing short of unsettling. Rest assured however, I mean to understand how it is that opportunistic and ideological demagogues like Senator Whitehouse are allowed an unchallenged platform in a place where God's words "Thou shall not kill" should bar them at the door.
Now I think anyone with half a brain can figure out Whitehouse is looking for a couple of snapshots with the good Reverend to use in future campaigns. The question is, why does Tom Tancredo get the axe because his positions on immigration don't jive with Bishop Tobin's, but Whitehouse is allowed in with the blood of the unborn on his hands.
This just doesn't pass the sniff test for me. The administrators over at PC, (home of my beloved Friar's), are gonna have to do better than a little press release before they skate on this one.