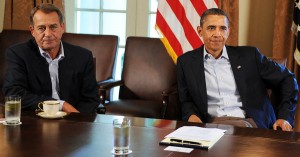 As I look at "sequestration" and the intense political drama playing out in advance of the issue, it appears President Obama may just get his wish after all. In essence, the whole idea of sequester was put forth in order to create a sense of urgency over our critical debt, as well as the spending on both sides of the aisle which created it. In reality though, why the heck would anyone need to be motivated to act on something so potentially catastrophic as nearly $17 trillion in bad debt.
Now Libs in Washington have done a great job of dressing up this monster pig as something less than the death knell it and "Obamacare" will be for our economy, but the truth is coming to the surface like so much "you know what" in a clogged bowl. However, if nearly $1 trillion in interest a year by 2020 isn't enough to get Nancy Pelosi to admit we're spending entirely too much of our grandchildren's money, than I don't know what is.
At the end of the day, I am of the mind this sequester, (as the President has proposed), should go forward in order to force the debate over how Washington is spending taxpayer money. Moreover, if our elected officials do not have the intestinal fortitude to advocate on behalf of our posterity, and in spite of their own selfish and ideological shortcomings, than all may indeed be lost.