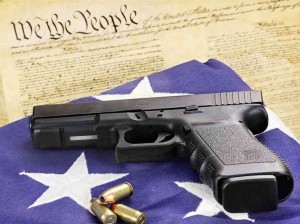 I was interested to read some of the comments made by those who attended the (anti- NRA rally), which is what it was, in Washington this past week. Consequently, it's pretty clear many folks are just uninformed when it comes to our Constitution and the Amendments to it. When you take this in context with other historical challenges to the next generation, it isn't hard to see why we're in this mess.
Now there's plenty of blame to go around, from the revisionists who've infiltrated our public schools, to the political opportunists content to look the other way when misinformation facilitates their own selfish endeavor. We may even look in our own homes where some parents fail to set the record straight. Nevertheless, I'm going to take one more crack at the Second Amendment for those who still don't get it.
Putting aside the numbers, because we understand the real numbers collected by our own government don't support the argument for "gun control", and even forgoing the "Lame Stream Media's" ratings driven sensationalism, as well as their unabashed "solidarity" with 44, you must understand, the Second Amendment has nothing to do with hunting!
If I hear one more brain surgeon talking about "not wanting to take away my hunting rifle", I'm gonna scream. For the record, the Amendment was debated and added on the premise that an armed "We———the People", as the POTUS puts it, could not only protect ourselves from would be assailants, but that one of those assailants might just be a renegade government. As difficult as it may be for some to accept, the intent was to ensure "the people" never be deprived of the ability to take up arms and reconstitute, and/or even replace their government, thus the true power would always rest with "the people". This right is truly unique among nations.
Now understanding of the Second Amendment doesn't make me a radical who supports armed rebellion, but rather it makes you an idiot for not doing your homework and realizing why our Constitution is such an important document. Or is it something else? Maybe, just maybe, the true intent of the Amendment is what Liberal Progressives fear most, and they seek to destroy it by exploiting grievous tragedy and misrepresenting the facts as they do. Hmmm…