A horrible and sickening event occurred in Newtown Connecticut this past December. A deranged person shot and killed innocent women and children at the Sandy Hook Elementary School. Consequently, there is little doubt the shock and despair associated with that incident will be with the families of the lost, as well as the nation for some time to come. Regrettably however, and in the time since that fateful day, it has become increasingly clear that the President of The United States, riding some perceived political mandate, will attempt to exploit the lost lives of Newtown in order to advance the ideological issue of gun control.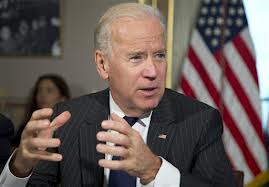 I do not say this lightly, and indeed I was willing to give the father of two young daughters the benefit of the doubt in the days immediately following the murders. Having said that, Vice President Joe Biden dropped the inevitable political bombshell today, as the newly formed "gun control task force" was meeting in Washington. Simply put, and to no one's surprise who has been watching this Administration with any objectivity, Biden hinted Mr. Obama might in fact bypass Congress and invoke "executive privilege" to initiate gun control measures. I'm sorry folks, but this abuse of power is unnecessary and unwarranted based on the facts and common-sense. However it does give us great insight into the foregone conclusions drawn of this masquerade run by the VP. There will be no real consideration of the evidence, only a rigged outcome born of a baseless, ideological and un-Constitutional Left Wing agenda, ever-poised to strike with crisis afoot..
Make no mistake, the Newtown tragedy must serve as a catalyst for change, but not the change the President and his Left Wing buddies desire. Sandy Hook should remind us that in any free society there will be evil which must be addressed. Not with the stroke of a pen, or the politically motivated band-aid solution of a self-aggrandizing politician, but rather by way of education, community, prayer, and a fact-based common-sense approach which provides security while preserving liberty. That is the American way, and the best way to honor the memories of those little angels and their teachers.