The so-called "fiscal cliff" was nothing more than a response to the accountability gauntlet laid out by both the WH and Congress, intended to make "We the People" believe our representative government actually gave a rats you know what about our kids futures. In essence, a made up deadline that when reached, only triggers the cold and broken reality of gridlock politics in Washington.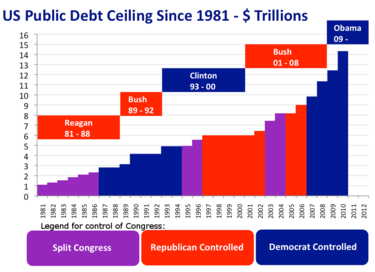 Now the "debt ceiling", well that's a whole different ball game. So it was interesting to hear the POTUS going on about how Republicans somehow want to prevent the nation from paying its bills on his weekly radio broadcast. (No Sir, they want to keep those bills from growing beyond our "ability" to pay them). He even attempted to draw a comparison line to the government shut-down of 1995. In fairness, some of the political components may be the same. But the monetary dynamic is something very different, and unlike anything we have ever faced before. The numbers today are, for all intents and purposes, the end of the "green back" road for us. At nearly sixteen and one half trillion dollars in debt, The United States is not only broke Mr. President, it's darn near bankrupt, and credit reporting agencies like Moody's know it. Consequently, and in full view of this financial Tsunami, Mr. Obama's approach in the weeks ahead will be to ask for yet another blank check, signed by the next generation, so he can burn off another boat load of borrowed money that we just don't have, on a bunch of foolishness that just doesn't work.
So as our economy remains on life support, with its full potential reined in by bureaucrats in Washington bent on ideological change, "We the People" are left to watch in utter confusion, as those sent to represent our best interest prepare to push the self-destruct button on our economy, as well as a better America for our children.