I was going to do another story on averting "sequestration", however it appears our elected officials have now successfully kicked the "fiscal cliff" down the road yet again. Thanks folks, I'll try and explain it to my son when he is older… What a sick joke…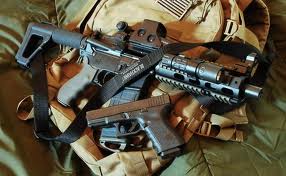 Moving along, I will do my best to avoid the nausea associated with the contempt I know these Washington elitists have for us, and go to another hot button topic, "gun control". It seems there is a letter circulating from a retired Marine Corporal in which he takes issue with Senator Feinstein's gun control initiatives. Now I will not bore you again with my opinions of Feinstein, they are well known. Instead I am including the text of the letter so you may judge for yourself. I will then offer a "rebuttal" of sorts, as offered by Des-Moines Register Reporter Donald Kaul.
Senator Dianne Feinstein,
I will not register my weapons should this bill be passed, as I do not believe it is the government's right to know what I own. Nor do I think it prudent to tell you what I own so that it may be taken from me by a group of people who enjoy armed protection yet decry me having the same a crime. You ma'am have overstepped a line that is not your domain. I am a Marine Corps Veteran of 8 years, and I will not have some woman who proclaims the evil of an inanimate object, yet carries one, tell me I may not have one.
I am not your subject. I am the man who keeps you free. I am not your servant. I am the person whom you serve. I am not your peasant. I am the flesh and blood of America.
I am the man who fought for my country. I am the man who learned. I am an American. You will not tell me that I must register my semi-automatic AR-15 because of the actions of some evil man.
I will not be disarmed to suit the fear that has been established by the media and your misinformation campaign against the American public.
We, the people, deserve better than you.
Respectfully Submitted,
Joshua Boston
Cpl, United States Marine Corps
2004-2012
In contrast, and as evidence of the extraordinary and subversive intent of those who mean to circumvent our nation's Constitution, I would like to add the comments of Des-Moines Register Reporter Donald Kaul. It seems Mr. Kaul does not have much love for the NRA, or for that matter, certain members of Congress. He calls for the burning and then leveling of the NRA Headquarters in Virginia, as well as the torture of House Speaker Boehner and Senate Minority Leader McConnell. Now I'm not sure, but as former law enforcement officer, prison guard and now crime prevention officer, that sounds a lot like threats of arson, and of assault against an elected official. So, in the absence of any reasonable or cognitive argument on the part of this "evil" nut job, I would encourage the Des-Moines Police Department, the FBI, BATFE and the Secret Service, to waste no time in investigating these statements and this person.
This is what I mean when I ask that you only listen to the voice of the Left in matters of Constitutional worth. These are the true and dangerous radicals who have hijacked the Democratic Party. Of course you probably won't read or hear about this story outside of the FOX Network or talk radio, as the "main stream" press is completely and totally of the same mind and concept as Mr. Kaul. Having said that, and as far as I'm concerned, Mr. Kaul is clearly "the" person who should be on every cops radar, and is a great example of a potentially violent offender "red flag" case.
The face of the opposition, Donald Kaul, in his own words.
• Repeal the Second Amendment, the part about guns anyway. It's badly written, confusing and more trouble than it's worth. It offers an absolute right to gun ownership, but it puts it in the context of the need for a "well-regulated militia." We don't make our militia bring their own guns to battles. And surely the Founders couldn't have envisioned weapons like those used in the Newtown shooting when they guaranteed gun rights. Owning a gun should be a privilege, not a right.
• Declare the NRA a terrorist organization and make membership illegal. Hey! We did it to the Communist Party, and the NRA has led to the deaths of more of us than American Commies ever did. (I would also raze the organization's headquarters, clear the rubble and salt the earth, but that's optional.) Make ownership of unlicensed assault rifles a felony. If some people refused to give up their guns, that "prying the guns from their cold, dead hands" thing works for me.
• Then I would tie Mitch McConnell and John Boehner, our esteemed Republican leaders, to the back of a Chevy pickup truck and drag them around a parking lot until they saw the light on gun control.
Well there you have it. I would ask the President and all those who claim they desire a "legitimate and productive conversation" about keeping our kids safe from gun violence, "did you mean with this foolish idiot, Sir???"