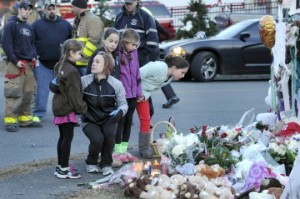 Its been a difficult weekend. I was comforted however to see a Barrington Police Officer standing watch as I dropped my 5th grader off at school this morning. But it did bring home some of the reality for me, if only out in front of any substantive discussions concerning why Sandy Hook happened.
Firstly, we understand there is evil in the world, which is sometimes manifested in ways we simply cannot imagine or understand. Secondly, we must rally in our communities and show support for the families of Newtown who need us emotionally and financially right now. And lastly, the question of "why" those innocent young children died should be first and foremost to be answered. "How" they died is a forensics question, and while certainly applicable, must be addressed in the appropriate context and order.
Inevitably, there will be many who attempt to frame this horrific incident in rhetorical terms in spite of fact and reason, and we must reject their efforts for the political fodder they are. For the moment, and frankly until the time is right, this is and should be about pulling those affected close to our hearts and keeping them in our prayers this Christmas.
May God Bless those little souls in Heaven this day, and may he provide some measure of solace to their families left behind.