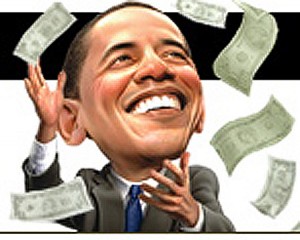 In the face of economic challenges he himself has called the "worst since the Great Depression",  The President of United States is "absent without leave" when it comes to addressing those challenges. His cavalier and irresponsible "I won the election" attitude, demonstrates what I have referred to all along as his "community organizer style of governing". Regrettably, this is a time for real leadership from our President, leadership he pledged to provide and instead has now settled in for a long winters nap while planning his four million dollar holiday extravaganza.
With inflation creeping into the mix, a jobs report which proves only that the American work force is shrinking to historic lows, and a consumer spending and confidence index in the toilet this holiday season, the POTUS seems oddly cocksure and confident, predictably casting the "compromise" word to the trash heap of election year BS .
Admittedly, I have been torn between the notion of letting the country go over the fiscal cliff or allowing the president's proposals to go forward. On the one hand, the country would suffer mightily if we go over this so called cliff, with unemployment skyrocketing and taxes reaching unprecedented levels for all tax-"payers". On the other hand, if we allow the President's policies to go forward, fiscal chaos and another recession are an economic reality for the nation. Doesn't seem like much of choice now does it.
Unfortunately, this is what happens when you unleash the power of a masterfully packaged, albeit ideologically flawed plan on our Constitutional Republic. Precious time is wasted on the nuances of party politics and class warfare, as the country's true economic engine is starved of the very fuel which makes it run: the entrepreneurial spirit, hard work and ingenuity of "We the People".
Consequently, and as a Constitutional Conservative, I feel nothing short of bound to an old amusement park rollercoaster I don't want to be on. As the rickety ride screams at breakneck speed toward inevitable calamity, I can see a duly elected President who readily ignores fact, truth and history, in what can only be described as a political high-jacking of our national identity, pitted against an weak-kneed opposition party, held hostage by the inability of its elected representatives to secure a principled position and stand on that position for better or worse. Hang on…