Many things inspire my writing. I do not automatically fall in line with the "news of the day" folks as this is predictable to me and often not of great interest to my readers. It's the story within the story I'm chasing, that in turn allows me to reconcile the events which affect us all.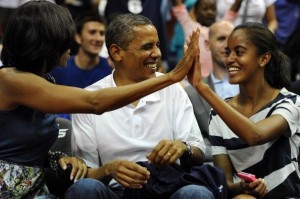 I was reading on-line recently when I came across a very flattering sequence of photos showing the President with his wife and one of his daughters taking in a pro-basketball game. Smiles and hugs abounded, and Mr. Obama the man looked quite content with his life post-election. Unlike some who write as I do, I'm usually inclined to give the POTUS a pass in these situations because he is also a family man and should be able to enjoy his life, at least to the extent he can and within the context of his awesome "responsibilities". Truth be told, that difficult balance goes with the job he fought so hard to keep.
Nevertheless, I read a contrasting article this morning about a women in Rhode Island who was laid off last year and has been struggling with the fact her unemployment benefits are quickly coming to an end. She has cashed in her life insurance and sold just about everything she owns to stay in the game. She reminded the interviewer that her bills are still due regardless of her employment status, and that her gas had been shut off at different times while she struggled to pay the bill. With winter approaching, my heart went out to this women as you could clearly see the anguish on her face in a photo taken for the article.
Now I know Liberals out there will defend the President on this one, and say that he cannot and should not be expected to live life as a recluse in mourning for those struggling in "the worst recession since the Great Depression", as he himself describes it. Normally I would be inclined to agree with that analogy. However, "this President" has taken extraordinary pains to identify himself with a particular demographic in this country, all the while bashing another demographic and touting what he calls "progress" on the economic front.
So as the work force remains at historically low levels, and many finding work are settling for underemployment as opposed to no employment, and as our national debt continues to grow while a fiscal chasm looms ahead of the new year, and while so many Americans continue to struggle in an economic climate on which our President readily admits "We've got more work to do", I would suggest to Mr. Obama that he at least try and appear a bit more introspective during this very difficult holiday season for many Americans.
http://gretawire.foxnewsinsider.com/2012/11/30/president-obama-headed-to-hawaii-for-4-million-dollar-christmas-vacation/