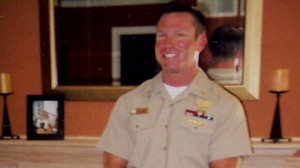 I was taken back when I heard the father of Special Operator Woods' father commenting on Benghazi and the death of his hero son, Tyrone. Charles Woods is a soft spoken man but his pain and sorrow were evident. As someone who has seen his fair share of tragedy, I assure you I'm taking that pain into account as I write this post.
Nonetheless, Mr. Woods went a long way to making my point the other night about the major news outlets stuffing the Benghazi story until the President is re-elected. And given the latest revelations from high level sources on the ground in Libya during the attack, which detail the horrific battle that was raging there, the scandal continues to grow larger and more sinister with each passing day.
I must tell you, the Administration's attempts to stonewall the truth about what happened in Libya have now become the story. Pandora's box is open and there are now a host of new questions regarding everything from the Obama foreign policy, to military preparedness and operational questions. And Mr. Obama's decision to haunt the Hollywood talk shows instead of holding a press conference to clarify all of this "intelligence" he supposedly received, might just cost him his job. At the end of the day, if the President can't provide the American people with an explanation, then who do we go to? "We the People" look to the POTUS as the leader of the free world. He was elected on the promise of "Hope and Change", "transparency" and a new way forward. Therefore, he is either inept and not up to the job, or he is lying.
The actions of S/O Woods, and S/O Doherty on the night of September 11th in Benghazi, were nothing short of selfless and morally courageous. They readily stepped up and gave their own lives to save their comrades in harm's way. I Implore the Commander-in-Chief to fulfill his responsibility to their families, the families of Ambassador Stevens and Attaché Sean Smith, as well as the American people, and hold a press conference today to explain just what the hell happened over there, what he knew and when he knew it.
The anguish of Mr. Woods and the other family members is only magnified when they don't have a clear picture of how their love ones were lost. Moreover, the ridiculous but initially adamant claims by Secretary of State Clinton, Ambassador Rice and Jay Carney, that these events were somehow related to a foolish and inconsequential video made in a free country, should be fully investigated by an oversight committee with appropriate sanctions leveled if needed. These people answer to us damn it, and Charles Woods deserves to know how and "why" his son died, Mr. President.
As a side note: If we are to believe Mr. Woods claims, (and we have no reason not to), regarding the remark made to him by VP Biden as his sons casket was being loaded into a hearse concerning the size of his sons "balls" in relation to those of "cue balls", then President Obama should pull that jackass aside and explain the merits of his immediate retirement from public service. What a disgrace!