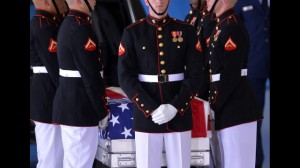 Based on now overwhelming evidence, reasonable people must agree the Obama Administration and its surrogates, to include Secretary of State Hillary Clinton, UN Ambassador Susan Rice and Chief WH Spokesperson Jay Carney, lied to the American people and the world regarding the attacks on our consulate in Benghazi, Libya. At the very least, that evidence now indicates there was a planned and highly coordinated assault on both the embassy proper and its annex one mile away lasting nearly seven hours, in which Ambassador Stevens, his attaché and two security forces personal were murdered. And while this "act of war" and the facts which surround it will continue to unravel in the days and weeks ahead, it is not why I write tonight.
I write because I continue to be stunned and outraged at the notion only FOX News is covering this story in its appropriate context, that being an unforgivable act of combat violence against a sworn ambassador and his team in a foreign land. I am not suggesting these types of travesties will not or can never happen. What I am saying, is that by and large the majority of American media outlets have chosen to down-play the events so as not to jeopardize the re-election of President Barack Obama.
This is without a doubt the worst abuse of the free press I have ever witnessed, and goes far beyond the typical Left Wing slant. While the families of the lost wait in anguish for what now appear to be answers which have existed right along, the majority of the "lame stream" media have failed in their sacred profession, and chosen instead to spit in the face of every American who looks to them for a truthful and un-biased reporting of the facts. In doing so, they are compromising everything our soldiers are fighting and dying for, as well as the sanctity of the America electoral process. I am nothing short of disgusted to know, that had this been George W. Bush or any Republican President, these same fools would be screaming for his resignation or immediate impeachment. It is a sad day in America when our allies around the world look on in disappointment as "truth, justice and the American way" are slowly relegated into obscurity by this President and his administration.
Election 2012 aside, the events in Benghazi, and the now obvious attempt at cover-up by the Obama Administration and a complicit media, have already cast a cloud over our national soul that will not soon be removed. What a damn disgrace.
http://hotair.com/archives/2012/06/22/the-social-security-trust-fund-will-start-going-bankrupt-in-2013/