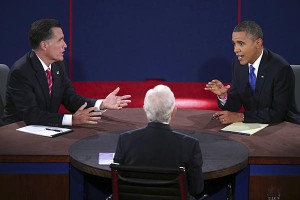 I did my level best to keep an open mind during last night's debate, which is more than I can say for some of my email detractors. You folks really need to consider anger management classes. With that said, I think not many minds were changed by this last meeting of President Obama and Governor Romney. I did feel the President sounded more like the challenger rather than the incumbent. But overall, the stark contrasts between the two men and their ideologies was only reinforced.
I have framed this election for the last four years as a battle for the soul of this country. I stand by that assessment even more steadfastly today. In the end, folks will have to do a great deal of gut checking when they go into the voting booth. And while there will always be the party loyalists who vote their emotions instead of on the basis of truth, this election will ultimately be decided when clear-headed individuals make a conscious choice in terms of where they see our country in twenty years.
With the debates now over, I cannot remember a more divided America. Sadly, this is our own doing and not that of some political boogie man conjured up by either side. We have failed in so many ways to safeguard that which was entrusted to us, and are therefore left to fight over what the founders had intended to be so much more clear. Our value system is in chaos and the minority has paralyzed an entire culture, because so many have chosen apathy and political correctness over the time-tested principles of individual liberty and accountability. Dependency is now revered and success is demonized. Revisionist history is the norm and few of our children are learning the greatness of America or of those who gave their futures to keep it that way.
Nonetheless and in the simplest of terms, for Governor Romney to become President there must be enough voters out there who understand, our current direction will erode and eventually erase the exceptionalism which has made The United States the greatest arrangement for mankind in all of human history. And for President Obama to remain President, there must be enough voters who have become comfortable with a globalist, big government, big debt and "live in the moment" application. On November 6, 2012, the world will know whether "We the People" shall rise up from adversity once again, and unite to leave our children a better future as we have done for generations, or whether we will simply be another political punch-line, remembered only for the missed opportunity of having learned the lessons of history. Please put any ill-conceived or resentment filled rhetoric in its proper place and vote your conscience this November…There is much at stake…