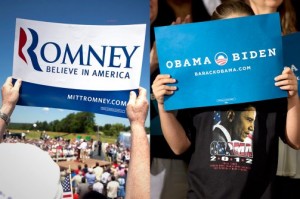 What does it mean to be undecided? In literal terms, it means not having made up one's mind I suppose. Fair enough. However in terms of the American Electorate, I'm afraid it means much more.
It's no secret there's a segment of the voting public who tend to hide behind a veil of perceived utopia and coffee-house politics as they contemplate their vote. Acceptance among so-called like-minded friends is important in these circles but can get you into trouble. Sacrificing conviction and/or common sense for the sake of some glorified collectivism is never a good thing. Inevitably, you are often left more confused than when you started.
Peeling back the electoral layers of this year's Presidential contest is important for many reasons, not the least of which is, an educated vote is truly our only hope. It always comes to pass at this juncture in the election cycle, that the few "undecided's" make their voices heard. Regrettably,  it always seems to be more about the process than the actual facts and circumstances on the ground. The issues are largely ignored in favor of a "personal" discussion over political mud-slinging. We simply don't have that luxury this time around.
The truth of our economic predicament today, leaves us far more vulnerable as a nation than any populous division. The confusion over tax cuts vs. credits and deductions is always a glaring example. Many don't realize or understand the government takes far more in taxes than it allows in deductions. So the choice is really about keeping more of your money at the point of earning it for your family and/or small business, as opposed to having the government cut you a check for less at tax time, making you feel as though they "gave you something". It's all in who you think is better at handling your money, you or Uncle Sam? One would think this is a no brainer, yet it invites an ideological battle the likes of which is made even more dramatic by the constant ringing of the 24 hour news cycle.
Now while I admit class-warfare as opposed to spirited dialogue is far less constructive, the notion our enemies see the latter as the lynchpin of our demise is questionable at best. To the contrary, robust debate of any issue, as well as individual thought and argument, are things fundamentalists seek to destroy in their own lands. Logic tells us then, our "process",  however fractious it may be at times, is most certainly a weapon in our arsenal, not theirs. This is not to say that "united" we won't always stand stronger, but that strength is also derived from our "independence" and freedom which so many have died to defend. Ultimately, if unity evades us, it is because there are "forces within" our communities, that are slowly eroding the fundamental truths which have always bound us together. But this is a much broader argument for another day.
Look, I will not be the first to say the suggestion that Governor Romney was somehow complicit in the death of that man's wife was outrageous and over the top. Nor will I be the first to say I'm sick of hearing the President is not an American citizen. However, when the slant is clearly to the Left within the ranks of the "main stream" media, and the (occupy) violence and lawlessness is ignored in favor of the (Tea Party) types "clinging to their guns and Bibles" as the lead story, well then that's an argument over traditional American values and the direction of our country. It is about what that country will look like for my young son, and it is an argument I will not run from, (nor do I suspect the other side will either).
It is true this election will most likely be remembered as the most vitriolic in American political history. There are very real and troubling reasons for this, and they cannot be ignored because there are those who choose to wrap their true political leanings in the soft and fancy paper of a Starbucks coffee and pastry combo. History tells us time and again, complacency in the face of adversity is the seed of national destruction. It also tells us our way of life is unique and necessary in the world, and that way of life must at times be defended by people of strong character and Constitutional conviction. It is therefore the "responsibility" of "We the People" to do our homework while we wade through the political semantics, and do what we know in our hearts and minds to be right for our children. It is also our responsibility not to set aside critical decisions because we lack the moral courage and fortitude to stand up for what makes us exceptional. As someone who chooses to inject himself into the political debate, I ask only that you consider this and vote your conscience… We will soon see where we are headed…