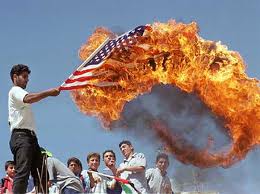 Apparently the President's "chickens have come home to roost". The policy of apathy and apology is a flaming disaster. Even SOS Clinton was stunned and heard to say "how could this happen"?
So how does the POTUS respond? He misrepresents and lies regarding Governor Romney's statement concerning the attack in Libya, blows off yet another "intelligence" briefing, then jets off to Vegas to raise some campaign cash calling Ambassador Stevens' death "a bad day". Mr. Obama's strategy for addressing a monumental failure of policy and leadership, which in this author's opinion resulted in the coordinated murder of 1 United States Ambassador and 3 Diplomatic/military attaches' on the anniversary of 9/11, appears to be to do more of the same.
Nonetheless it is ironic, that with memories of the DNC Convention still lingering, and all the attempts to portray Mr. Obama as somehow foreign policy savvy, that we now see the complete ineptitude of an inexperienced political creation way out of his league. Even more ironic though easier to reconcile, is that the press feels it is unacceptable to question the Administration or the POTUS regarding foreign policy during a campaign cycle. This from the same bunch of dolts that couldn't print enough of then Candidate Obama's distortions about President Bush's foreign policy initiatives. Heck, the "Lame Stream Media" unwittingly gave us all of the one liners and sound bites we now use against the President. Turns out Obama in his own words is a treasure trove of material.
Ultimately, my advice to the President at this time would be this. You have just lost a senior and well respected diplomat to a terrorist attack, and there must be accountability. Your Administration is the laughing stock of the Middle East and most everywhere else but the U.S. East and West Coast. I beg you please, do your Constitutional duty Sir and protect the interest and safety of the American people here and abroad.