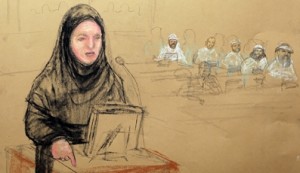 As I watch and listen to the courtroom shenanigans coming out of Gitmo, my heart is filled with sadness for the families of those lost on 9/11. I think of the anguish they must be feeling all these years later. Not only have they had to endure delay after delay while Eric Holder argued for the "rights" of the terrorists, they must  now sit and peer at monitors as these murdering bastards mock the military proceedings, and their lawyer argues for the right to wear "appropriate" clothing out of respect for the religious beliefs of the enemy combatants. What is happening over on that Godforsaken little Communist island?
"Judge Fred (Patriot64)" would offer the following as a solution:
1. Jurists – Please submit your briefs by the first of the month.
2. Miss Bormann, you will wear clothing appropriate for a military tribunal without deviation, end of discussion.
3. Both sides will have 1 – day long evidentiary session to present their case.
4. A verdict will follow within 24 hours, with sentencing and "punishment" to be carried out at sunrise the following morning. (No appeals), and relatives will be afforded the right to view the proceedings as well as take part if they are so inclined. (Please submit written requests for participation by tomorrow.)
5. I will make a formal statement apologizing to the victims' families for the delay of justice, prior to the punishment phase.
6. And finally, Gitmo will be thoroughly cleaned, disinfected and serve as a staging area for the construction of a resort hotel and beach front, to be utilized by the "Wounded Warrior Foundation" as a treatment and rehabilitation center, free of charge, for all who have sacrificed on behalf of their country.
No joke people…