Today will be a happy albeit confusing day for my FOX detractors, as I have a beef with the "fair and balanced" network. Let me first say that the Lefts targeting of FOX, including the unabashed cry babying by the (Commander-in-Chief) about how Sean Hannity and company have it in for him, is just plain ridiculous and difficult to listen to. And while I have made it clear that I qualify my thoughts by way all the major networks and other resources of record, it should be obvious to anyone without the most biased of agendas, that a news media playing field without FOX would be shall we say, one-sided (Obama).
Regardless, Brian Kilmeade of "Fox and Friends" got under my skin a little the other day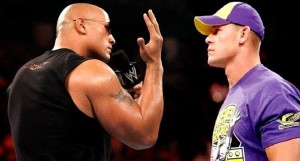 when he put WWE Superstar John Cena on the spot with a political question regarding his thoughts on the Republican Primary field. To his credit, Cena was professional and even intellectual in his response, stating that he had met Candidate Romney at the Daytona 500 and found him to be engaging. Cena made no endorsement and gracefully dodged Kilmeade's obvious attempt to get him on the record.
For as much as the FOX teams assail their rivals regarding Hollywood hijinks and the "politics" of brainiacs like Rosie O'Donnell and Matt Damon, they should take a page from their own book and leave politics off the "curvy couch" when discussing or highlighting things like the WWE. For the most part, those watching the Cena spot that day could have cared less who the wrestler supports for President, and were much more interested in whether or not a recent car accident may have affected his upcoming rumble with "The Rock". In any event, a bit of advice for Brian in the words of one of his favorite sports announcers and former football stars: "Com'on man"……