I do agree that with many of our fighting men and women still in harm's way, it would be premature to celebrate by way of a nationally recognized event such as a ticker-tape parade. I am happy to see however, that the President has decided to hold an event at the White House which will at least mark the occasion of some of our soldiers returning from both theaters, and acknowledge them for their immense sacrifice and bravery. Now let's take a look at what the reality is for many Veterans and active duty Soldiers during the Obama Presidency 2012.
The President's new budget is calling for cuts to Veterans medical benefits by as much as 30 – 70% in 2013 depending on the individual package, and a graduated 90 – 345%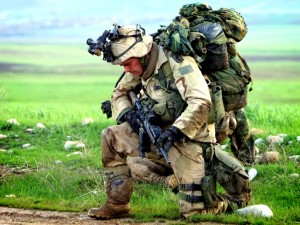 increase within 5 years. Co-Pays for active duty personnel will triple within the same period. Administration spokespeople are touting these cuts as a necessary burden applied through an overall military cut back. Ok, so let me understand this. At a time when United States interests are threatened on the broadest front in our history, we will not only cut funding for the means by which our defenders "bring it" to the enemy, but we will also cut their means of making a living and supporting their families?
An all-volunteer army that goes in harm's way in our stead is now left to muddle through on an actual and applicable living wage barely at the poverty line, and it gets worse. All this comes as our domestic entitlement spending is at its highest level in the last 10 years and shows no sign of slowing. (Note) – As a bonus slap in the face, the United States Government will spend nearly $750,000.00 on a new soccer field for the prisoners at Guantanamo Bay. Yes, you heard right, the same Guantanamo Bay President Obama promised to have had closed 3 years ago.
Once again the glaring political hypocrisy of this Administration is nothing short of insulting. Where are our priorities?